HMG Paints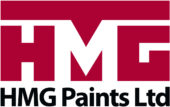 HMG Paints has a vast product portfolio which covers a wide variety of industries, our products are supplied across the globe. These materials range from standard to highly specialised, superior performance products, but all have one thing in common, they are backed by the enthusiasm and passion that HMG has for producing the highest quality finishes with the best possible service and technical know-how.

Since our incorporation in 1930, HMG Paints has been a family business. Generations of families have been involved with the business and grown up together passing on their knowledge, expertise and passion to future generations. Whilst of course excellent paints and surface coatings are the lifeblood of our success, we believe that there is much more to it than that.We believe that business based on trust, decency and exceptional service, forms long term partnerships and friendships that last.
From a tiny room with only three people and a vision, HMG has grown to become the UK's largest independent paint manufacturer with outlets across the UK and world. As we've grown we have never forgotten our roots and the emphasis on working alongside our customers to create the very best individual service and tailored solutions for them. Whether our paint is used on a living room wall, a bedroom, an office, a cinema or a doll's house, to us it is above all 'our paint' and we are exceptionally proud of it.